Low Carb desserts- Keto Sweet tooth
So just because you have started a low carb nutrition plan doesn't mean that you can't have any sweets or treats!!! You just have to know how to formulate them with minimal carbs and sugar. I consider this an art form….. Making something that taste like a dessert, only using real foods, and natural ingredients. Here are some of my favoriteConcoctions that I have found along my keto journey.
Pistachio Crusted, Almond butter, Coconut cream layer pie
You first start with the crust. It takes 1/4 cup of shelled pistachios, 1 tbsp of almond flour, and one tablespoon of coconut oil with a few drops of stevia in it. Crush the pistachios in to powder, add almond flour, then add in melted coconut oil, and stir until you can pack down your crust in to the bottom of a glass dish. After it sits in the freezer for about 10 minutes, it should be hard enough to add the almond butter.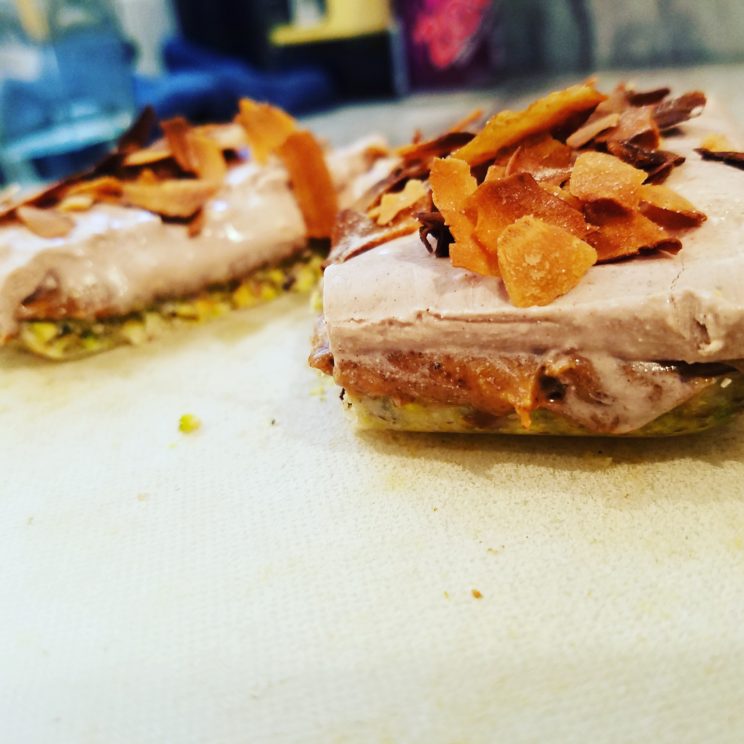 Add a half of a cup of nut butter as an even layer over your crust. Then store it in the freezer for another 10 minutes as you make your cream. You need  a half cup of pure coconut cream in a bowl. Mix in some cinnamon and stevia to taste. Add melted coconut oil, or coconut butter to get the right creamy consistency. Once you have it just right, pull out your pie, and add the cream as the topping. Then refrigerate until ready to serve. I recommend toasted coconut flakes, or crushed nuts as a delightful topping. This makes three servings. Each serving has 13g of Carbohydrate, 8g or protein, and 43g of fat.
Chocolate brownie Cookie
This one is pretty simple. Mix 2 tbsp of coconut oil, 1 serving of Keto collagen or protein powder, and one serving size of any nut butter. Whip them until consistency is like brownie batter and then stick into the fridge. While your no bake brownie is hardening, now you can make your topping. I personally like to take 1/4 cup coconut cream, and mix a little powdered peanut butter (like 1 tbsp, iIdon't eat PB very much do to the mold factor), and a tbsp of coconut milk. This makes a creamy peanut butter topping for the chocolate brownie. Simple and easy, makes one big serving. I use macadamia nut butter in mine which makes the macro nutrient makeup 10.5g of carbs, 13g of protein, and 43g of fat.